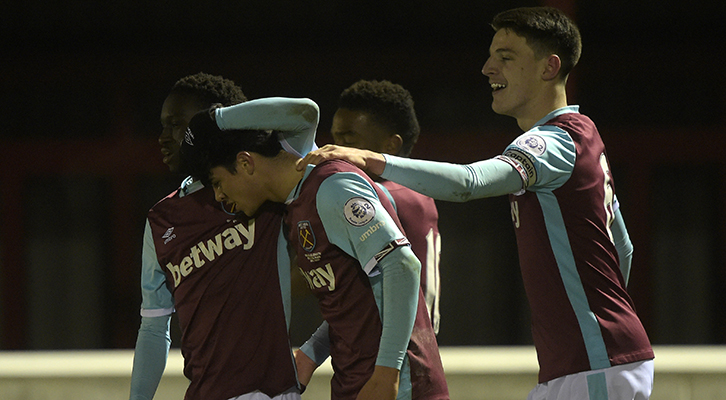 FT: That's it! The Hammers have comfortably beaten Nottingham Forest by three goals to nil. Holland's late third puts extra gloss on what was a terrific result and performance - the Hammers are now through to the knockout phase of the Premier League Cup! Next week, they're in action of the first time at London Stadium - stay tuned on our media channels for info on next Monday's match with Fulham! Good night!
90: THE HAMMERS HAVE A THIRD! Holland has been excellent and plays a one-two with Parfitt-Williams before tapping past Wright. 3-0!
88: So close to a third. A lovely, sweeping move - Holland crosses for Parfitt-Williams who dummies and Diangana shoots just over. 
86: Not long left now and the Hammers have looked comfortable so far in this second half. Terry Westley will be pleased with what he has seen. 
82: Quina again produces one of his signatures turns. He bursts forward but shoots just wide.
78: Great shift by Joe Powell tonight. He's replaced by Djair Parfitt-Williams. Forest make two subs - Coleman and Otim come off for Taylor and Johnson.
77: Good chance for Forest. Otim lets fly from 25 yards and Trott produces a wonderful acrobatic save.
73: A long ball over the top of the defence almost finds Holland sprinting through by Nielsen manages to steal in with an interception.
70: Forest work it to their right hand side and a deep side isn't able to be brought down by Edser. The visitors are yet to worry the home side tonight. 
63: The Hammers make their second change of the evening with Noha Sylvestre replacing Dan Kemp. Quina will now play in behind Powell, with Diangana moving to the right hand side of midfield. 
61: A lovely flowing move by the Hammers. It's worked to Neufville whose cross just evades everyone in the box. Forest make a sub with Kyle McClean replacing James Thorne. 
54: Looks as if Elvis Otim is on his last warning. A foul on Kemp and he's already been booked - the referee calls the No7 and the Forest skipper over for a final talking to.
51: Late challenge by Toby Edser earns him a booking for a foul on Quina. Strangely, Quina is then booked for trying to pull the referee out the way because he wanted to take a quick free-kick. Bizarre!
49: Diangana tries to slide a pass through for Powell bit it's slightly overhit. The Hammers striker seems keen to complete his hat-trick. 
46: We are back underway at the CCS. No changes for either side at the break. 2-0 the score.
HT: Solid first half by the boys. Two Joe Powell goals have the home side in cruise control at the break. More of the same in the second half please! West Ham 2-0 Notts Forest
45+4: Crookes floats a header towards goal but it's easily caught by Trott. Forest have rarely threatened in this first 45. 
45: I wasn't far off my guess! We'll have 7 minutes of stoppage time at the end of this first half. 
44: It's been a very good 15 minutes for the Hammers, since the injury to Pask. That will mean we'll have around eight minutes additional time to play. 
40: It's 2!! Shoddy backpass by Nielsen allows Joe Powell acres of space to pick his spot and slot home! And almost a third as I type as Holland cracks a strike against the woodwork. The Hammers have been dominant. 2-0
34: It's a GOAL for the Hammers. Patient play on the right by Kemp and Knoyle ends in the latter crossing for Joe Powell to loop a header over Wright and into the net. That's followed by a brilliant run and strike by Diangana, whose effort flies just wide. 1-0
31: Good chance and it was almost Dec Rice again. The skipper got his first of the season last time out and again made a similar run to the near post from a Quina corner. Rice used his head this time but the ball looped just over. 
26: First booking of the game goes to Forest. Elvis Otim scythes down Joe Powell, who was away and clear. Deserved yellow. 
23: Pask is stretchered off and on comes U18s captain Tunji Akinola. Fingers crossed that the injury to Pasky is no too serious! We're back underway.
20: Pask is still down on the pitch with several medical staff attending to him. Let's hope he'll be okay and that the injury is not too serious! We can expect plenty of stoppage time at the end of this first half. 
16: The stretcher is on and Pask will play no further part in this one. Tunji Akinola is warming up and looks certain to come on.
14: Nasty collision between Trott and Pask. A long ball was played forward and Trott was forced to come and clear. Unfortunately, he followed through and collided with Pask. Hopefully, Pask will be okay but it looks as if he won't be fit enough to continue. 
10: Penalty shout for Forest. Pereira goes down under the challenge of Pask, but the Hammers centre-back clearly won the ball and the referee waves away the protests. 
8: Neufville's pings a cross in from the left and it's fumbled by Wright in the Forest goal. Luckily for him, the away side could clear their lines. 
7: Brilliant pressing by the home side in the opening exchanges. Diangana, Kemp and Powell are all working very hard to retrieve possession. 
4: Almost an early goal! Quina surges forward and beats a couple of challenges before sending a strike whistling just over the bar. Bright start by the Hammers. 
2: Late challenge by Pereira on Makasi and the Forest midfielder doesn't like the fact his was dispossessed, so swings an arm at Makasi. The referee will want to nip that in the bud early on.
1: The Hammers get the game underway! COYI!
6.45pm: So not long to go now until kick-off. It's a chilly night in Dagenham this evening, but both sets of players have almost finished their warm-ups and are raring to go for this crucial Premier League Cup fixture.
6:30pm: So just the one change from Terry Westley this evening. Dan Kemp returns for Noha Sylvestre who drops to the bench. Domingos Quina drops deeper into the midfield, with Grady Diangana moving into the No10 position behind striker Joe Powell. 
West Ham: Trott; Knoyle; Pask (Akinola, 23), Rice, Neufville; Makasi, Quina; Kemp (Sylvestre, 63), Diangana, Holland; Powell (Parfitt-WIlliams, 78). 
Subs not used: Matrevics, Parfitt-Williams, Hector-Ingram.
Goals: Powell 34 and 40, Holland, 89.
Bookings: Kemp, Quina.
Notts Forest: Wright, Charlesworth, Crookes, Edser, Nielsen, Iacovitti, Otim (Johnson, 78), Coleman (Taylor, 78), Smith, Pereira, Thorne (McClean, 61). 
Subs not used: Re, Marques.
Bookings: Otim, Edser.
6pm: Good evening and welcome to the Chigwell Construction Stadium for West Ham United PL2's Cup fixture with Nottingham Forest. The Hammers can qualify from Group E tonight, after drawing with Leicester City on Thursday. Their opponents Forest play in the league below the home side, so Terry Westley will be expecting his team to pick up maximum points tonight. Team news to follow!