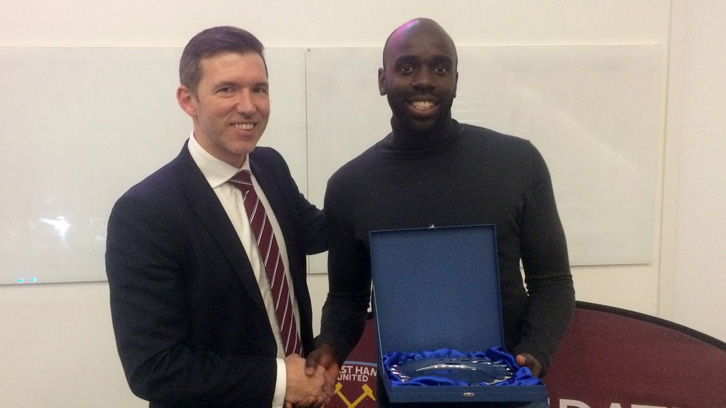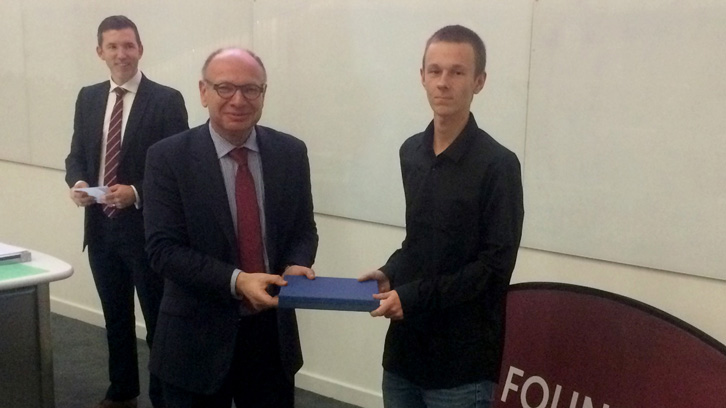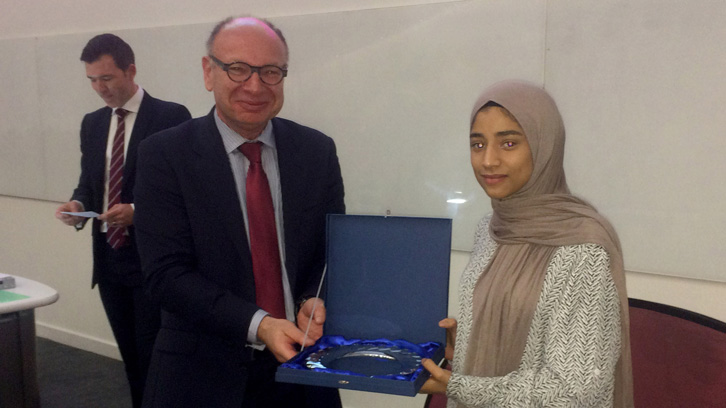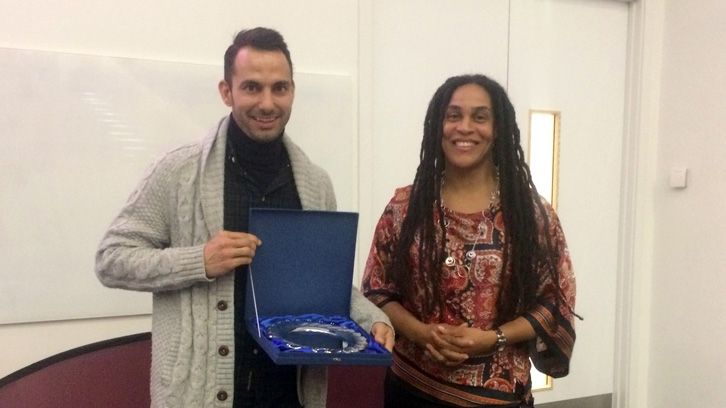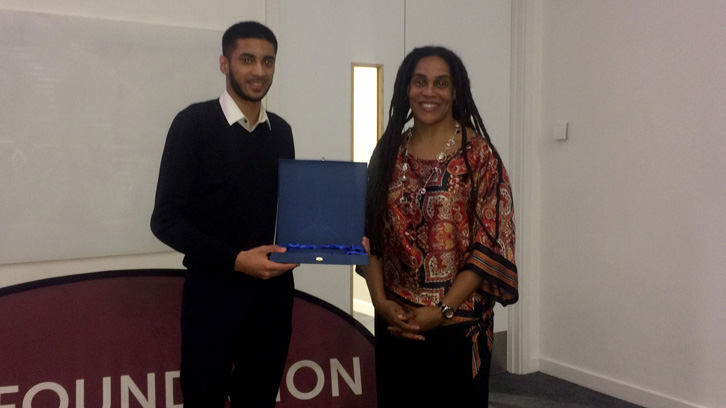 Members of the Foundation team were celebrated at an annual event, designed to give credit to the 100+ staff who deliver over 40 Foundation programmes throughout the year.
Foundation CEO Joseph Lyons hosted the event, joined by key stakeholders, trustees and the Foundation's senior management team, at Loughborough University London, on the Queen Elizabeth Olympic Park.
Staff were given the opportunity to hear from members of the Foundation, were able to celebrate key highlights from 2016, and give their input to the plans that will see the Foundation grow further in 2017 and beyond.
There was also an awards presentation, with Foundation staff having voted amongst their peers in five categories. The awards were presented by Henri Brandman (Trustee), Dr Marcia Wilson (Associate Dean of School of Health, Sport and Bioscience at UEL) and Joseph Lyons (WHU Foundation CEO).
The winners were:
Mentor of the Year: Najma Sheriffu
"Najma has made a significant contribution to the Employability programmes and the young people we work with.
"Najma is the current vice-chair of the West Ham United Foundation Youth Board and started her active work with the Foundation on the Premier League Works project. She has mentored a number of her peers to achieve and has also improved her own skills. She has also championed female participation within club programmes."
School Sports Coach of the Year: Ricky Graves
"Ricky has worked for the Foundation for six years; in that time he has proved to be a proactive and consistent deliverer and always to the highest standard. He has built up excellent relationships with schools and his peers, who always speak of Ricky's enthusiasm and knowledge. Ricky works at Graham Jones Academy in Thurrock, and is a head coach across our Soccer Schools and football development programmes."
Community School Sports Coach of the Year: Brendan Brigstock
"Brendan has been with the Foundation for five years, starting as an apprentice. During his time at the Foundation he has developed into a mature, reliable and more importantly consistent member of staff. He now works across several strands of the department as well as supporting the Club. He is well respected by his peers and is now a key member of the Foundation staff."
Newcomer of the Year: Shazeb Iqbal
"Since joining West Ham United Foundation's new Sports Traineeship programme, launched in September 2015, Shazeb successfully achieved his FA Level 1 in Football Coaching, Futsal Coaching, Mentoring and a Level 3 in Premier League Reading Stars. Through his dedicated volunteering role supporting flagship campaigns such as Kicks and Show Racism the Red Card respectively, Shazeb secured employment as a sessional coach within the Foundation.
"As a personal highlight, Shazeb was part of the group of young ambassadors who represented the Foundation at the annual Black and Asian Coaches Association and FA Licenced Coaches Club conference held at Wembley Stadium and St Georges Park. One year later, Shazeb has been accepted onto our Leadership Through Sport & Business apprenticeship programme where he will complete a 12-month apprenticeship at a blue chip finance organisation whilst studying for an AAT Level 2 and Level 3 qualification"
Foundation Person of the Year: Arran Johnny
"Arran is a well-liked member of staff who is very adaptable and works in many strands of the Foundation, Club and Academy.
"Arran is currently studying for the Applied Community Sport Degree at UEL. He is a proactive and enthusiastic student who is succeeding on the degree and is an excellent role model to his peers.
"Throughout his time with the foundation, Arran has gone above and beyond expectations to offer his time and support during sessions, even on a voluntary basis. He is reliable and has grown in confidence throughout his time at the Foundation. He is an asset to the Community Sport team and currently works as a coach inspiring others in the community."