Every Hammer is playing their part in a momentous season for West Ham United, goalkeeper Alphonse Areola believes.
The Irons' 'stopper – who is in line to start Thursday evening's UEFA Europa League encounter with Rapid Vienna at Allianz Stadion – has rotated with No1 Lukasz Fabianski so far this season as the Irons have competed successfully on three fronts.
Should that prove the case, the summer loan signing from Paris Saint-Germain would be making his sixth appearance in Claret and Blue – as well as his 28th in major UEFA competitions.
Having competed at the very highest level in Europe with clubs including PSG, Villarreal and Real Madrid, Areola recognises the qualities of a successful dressing room – and spoke passionately about the unity required, and so far demonstrated, by West Ham in their first-ever Europa League group-stage venture.
Areola noted: "The manager has given opportunities to the players who haven't played that much, and I think everyone is involved in the objectives of the Club and we are here for that, to help the team to try to reach our objectives.
"When we have the opportunity, we just enjoy playing and we are here for that, to try to give our best every time.
"I'm just working hard every day and trying to help the team, to give my best – and that's it. With the opportunities I get, I just have to play well and help the team – that's the thing."
Areola also hailed the influence of his long-time France international team-mate Kurt Zouma, who has quickly cemented his reputation as a fans' favourite since joining West Ham from Chelsea during the summer.
Areola smiled: "Of course, I've known him for a while. 
"We played together in the French youth teams and before he signed, I knew that he would be a good player for us as well, who would help the team a lot, help the guys to win games and bring a good atmosphere to the group as well, and just help the team."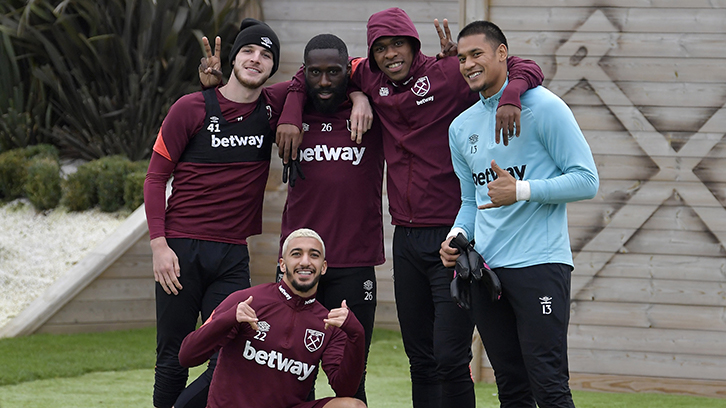 With his extensive European experience, the former FIFA World Cup winner is set to once again have the opportunity to prove his quality as a top-level custodian for West Ham on Thursday.
The Frenchman spoke of his enjoyment of playing in front of the Claret and Blue faithful thus far, although due to a nationwide Austrian lockdown, no supporters will be present at Allianz Stadion on Thursday night.
West Ham would secure top spot in Group H with a win over their Austrian opposition.
Areola added: "Of course, every European game is really good to play in, and it's nice as an experience for the player as well.
"It's good because you travel a lot as well, and it's been a good atmosphere every time I've played, so as the Gaffer said, it's a bit of a shame that we will not have fans on Thursday, but we will have to deal with that.
"We heard a lot about the crowd and atmosphere here, but it's like that and we'll play the game and enjoy the game as much as we can."