West Ham United legend Joe Cole will never forget 9 May 2002.
For that day, not only did the then 20-year-old receive a call-up from Sven-Göran Eriksson to England's squad for the FIFA World Cup finals, but he welcomed Her Majesty, Queen Elizabeth II and Prince Philip, Duke of Edinburgh, to the Boleyn Ground.
A star graduate of the Academy of Football and, despite his tender years, already a leading member of the first-team squad with more than 100 senior appearances under his belt, Cole was a natural choice to meet the Royal party when they visited to open the new West Stand as part of The Queen's Golden Jubilee tour of the United Kingdom.
And so, in the week leading up to West Ham's final weekend win over Bolton Wanderers, the young midfielder swapped his football kit for a smart suit, shirt and tie and joined Chairman Terence Brown and managing director Martin Aldridge in welcoming the illustrious guests to Upton Park.
Alongside them, the youth-team squad formed a guard of honour, which included Cole's future West Ham and England teammates Glen Johnson and Jermain Defoe.
It was a day, understandably, Cole, who went on to appear once against Sweden at the 2002 World Cup in Japan and earn 56 England caps in total, will always remember fondly, as he told West Ham TV following The Queen's passing at the age of 96.
I remember the day because it was the day I found out I was going to the World Cup as well, so it was a very momentous day.
We all went down to the Boleyn Ground and I was a young player and was asked to go and meet The Queen!
As a young man, I did not know what to expect and someone from the team behind the Royal family came over and told us what was going to happen and how to address The Queen, when to speak and what to do and how to do certain things.
It was quite nerve-wracking because I didn't want to upset her!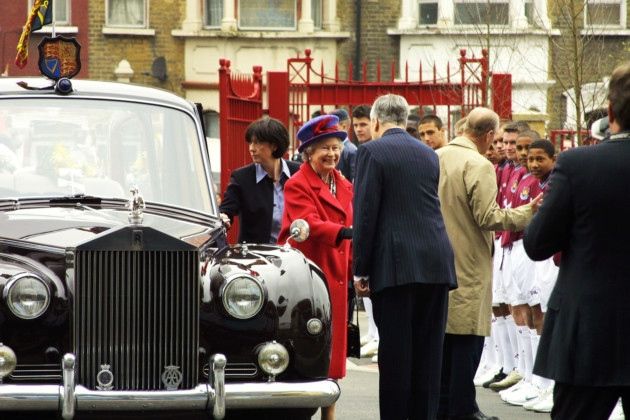 We were waiting and The Queen came along the line and she asked me about going to the World Cup. I replied: 'Yes, Your Majesty, I'm really excited. I found out today'.
She was talking about how much she loves east London and it was really surreal. She seemed very nice and kind and genuinely happy to be there.
She asked me about West Ham and we chatted for probably about 90 seconds, but it wasn't denied or confirmed if she was a West Ham fan. They're great memories and I've got pictures to prove it!
The Queen then unveiled the plaque to open the new stand and after she had done so I was again invited to shake her hand.
It was a big day for me in any case, having been selected to go to the World Cup at the age of 20, so to have that experience on top of it was very surreal. I've been digging out the pictures to show my kids this week because, God bless her, she has gone.
We then went upstairs for a Champagne reception and met Prince Philip and I remember him being relaxed and asking about football and asking Jermain Defoe about his earrings. He wanted a pint of bitter, so someone was sent down to the Boleyn Bar to get him a pint!
I was fortunate enough to play for England and I've never been prouder than the moments I pulled on the England shirt.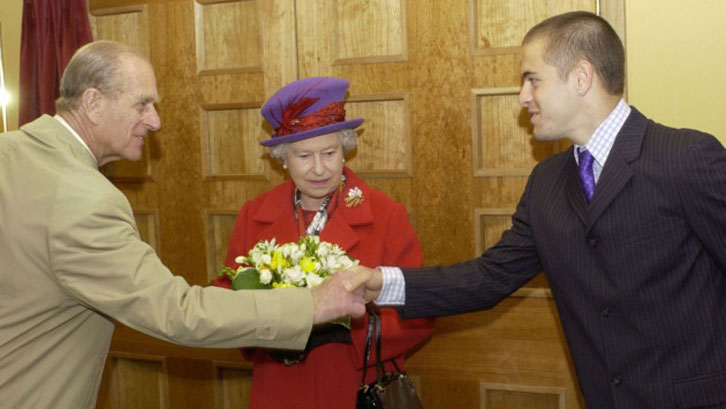 I have always been a big fan of the Monarchy. I understand it is a big part of our country's history and this week has shown how connected we are to our past.
The Queen's service, as a human being she was born into it and she did with dignity, patience and empathy. I am a big fan of the Royals and I hope this will bring the country together, as she was a very special lady.
The respect that was shown at London Stadium on the night The Queen passed summed up West Ham and made me very proud to be a West Ham supporter.
Being east London, which was really hit hard during the War, and being very close to Buckingham Palace, I think that feeling of closeness came out.
East London is very multicultural now but, at its core, there is still a great respect for the Monarchy and we all understand what it means to be British.
We are one and what happened at West Ham was spontaneous but deeply respectful and very well done.