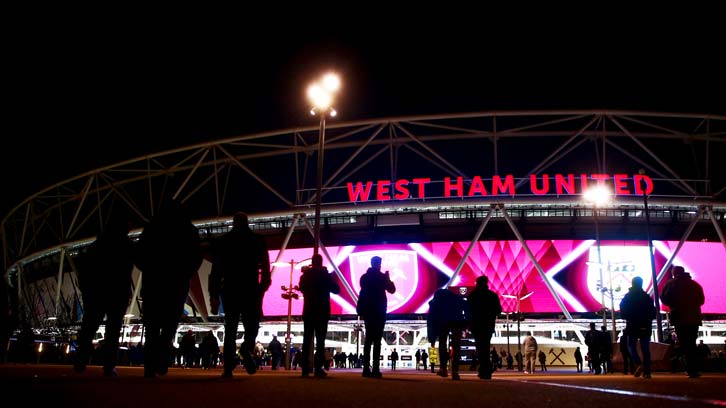 ​
West Ham United's all-new Supporter Advisory Board (SAB) enjoyed a positive and successful inaugural meeting at London Stadium on Tuesday evening.
As part of the Club's ongoing commitment to improving fan engagement, Vice-Chairman Karren Brady and other senior Club officials met face-to-face with supporter groups with the clear message: ''We are listening and we are here to help".
Following on from the successful Fan Feedback Forum hosted by the Vice-Chairman in October, a panel made up of individuals representing different sections of the Club's large and diverse fanbase met to discuss a wide range of important topics at London Stadium following the move to our iconic new home.
The evening began with an address from the Vice-Chairman, who thanked the members for attending and reiterated that the purpose of the meeting was to hold a very open, frank discussion about the issues supporters wanted to raise as the Club continues to settle in to its new home and improve the matchday experience, and that they were free to raise any topic or area of concern.
Recent innovations she highlighted included the introduction of Supporter Liaison Officers, with 30 scheduled to be assisting fans at Manchester City on 1 February and experienced stewards now being positioned in the same areas to build a rapport with supporters.
Joining the Vice-Chairman on the panel were Executive Director of Marketing and Communications Tara Warren and Head of Ticketing Nicola Keye, while Head of Concessions Nick Kendall and London Stadium 185 Safety Officer Peter Smith were also present to answer questions.
During the two-hour meeting, a range of subjects were discussed including; accessibility and facilities for disabled supporters, stewarding and matchday operations, stadium security, ticketing and seat relocation, routes to and from London Stadium, public transport links and the introduction of more West Ham United imagery on the main route to the stadium.
The consensus among those attending was that stewarding has significantly improved at recent matches and that good work should be built upon. The Club also confirmed to supporters it has written to former Boleyn Ground stewards encouraging them to work at London Stadium and will add more West Ham United specific information to the matchday stewards' briefing, and encouraged fans to contact Supporter Services with any feedback on all matters, including stewarding at the Stadium.
Actions agreed on the night included working towards the creation of a disabled supporters' advisory group, using 50 more search wands to assist with searches of women and children, and the Vice Chairman writing to more train companies encouraging them to add carriages to their services on matchdays, in the hope of achieving more further positive results to add to those already achieved in this area.
Supporter Advisory Board member Patricia Lamb said: "This forum is a brilliant way for people representing supporter groups to voice any issues or feedback that they have.
"When supporters know their voices are being heard, they won't be as antagonistic, and perhaps a little more supportive. It's a big thing that has been started up and it was a very positive meeting."
It was a view echoed by fellow SAB member Norman Collins, who is also a member of the Trans-Pennine Irons Supporters' Club.
He added: "Everybody wants to know things, and it's important that we are able to raise the issues that the supporters we represent care about.
"We've got a couple of hundred members of our group in the north of England and there have not been a lot of complaints from people up north about the Stadium. But it's obvious that there are a lot of things to discuss - and it's great that the dialogue has been opened."
The next meeting of the Supporters Advisory Board is schedule to take place on Wednesday 24 May, 2017 at 6pm.
The minutes of the meeting can be found here