Born: 1 August 1873
Died: 14 February 1933
West Ham Manager: 1902-1932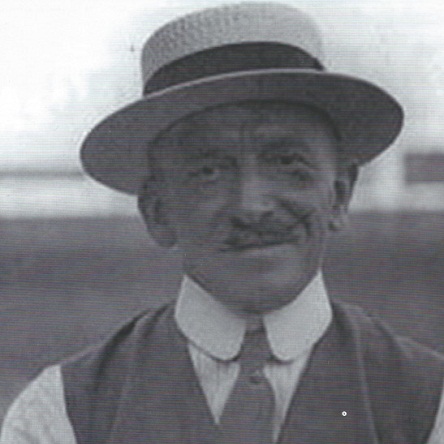 Syd King spent more than 30 years as West Ham United's first full-time 'manager', overseeing a period of great development at the Club, on and off the pitch.

Born in Kent, King attended Watford Grammar School before playing as a right-back with Northfleet United and New Brompton (Gillingham) before joining Thames Ironworks following the Club's promotion to the Southern League First Division in 1999.

King made 23 appearances in his first season and remained with the Club following its reformation as West Ham United in 1900. In total, he would play 89 times for the Hammers across the Club's two guises.

At the start of his final season as a player, 1902/03, King was appointed as Club secretary – a role that also involved team selection and overseeing training at that time.

As the Club continued to grow, King oversaw the recruitment of some outstanding players, including centre forward Syd Puddefoot, who netted 107 goals in 194 games for West Ham.

Under King's guidance, West Ham moved to the Boleyn Ground in 1904 before being elected to the Football League in 1919.

A larger-than-life character, King was at the helm when the Hammers won promotion to Football League Division One and reached their first FA Cup final in 1923.

That year, a headline in the local East Ham Echo newspaper proclaimed: "Syd King is West Ham and West Ham is Syd King", such was his central role in everything that went on at the Club.

In 1926/27, King led the Hammers to a record-high sixth-place finish in the top flight – an achievement not matched until the 1958/59 campaign and not surpassed for nearly six decades.

The 1920s also saw the Club continue to attract and unearth some of the finest players in its history, including prolific all-time record goalscorer Vic Watson and fellow England internationals Jimmy Ruffell and Ted Hufton. However, in the latter part of the decade the manager was criticised in some quarters for failing to strengthen the squad for the demands of Division One football.

King was appointed as a shareholder of the Club in 1931, but unfortunately results did not go to plan and, following relegation to Division Two in 1932 and a poor start to the following season, King departed in November 1932.

He passed away a few weeks later at the age of 59.
Appointed 1 April 1902
Departed 1 November 1932
Games Managed 638
Games Won 248
Games Drawn 146
Games Lost 244
Win Percentage 38.87%