Born: 19 October 1954
West Ham Manager: 2011-2015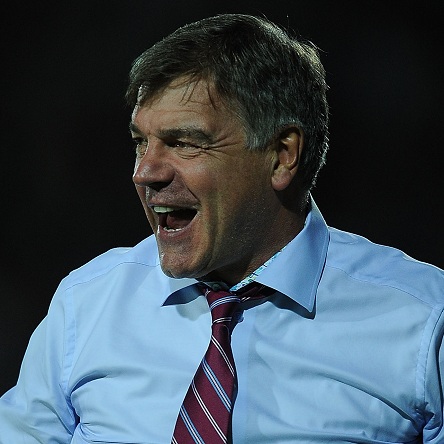 Sam Allardyce was appointed West Ham United manager on 1 June 2011 following the Club's relegation from the Premier League.

Big Sam guided the Hammers to a club-record 14 away victories and promotion back to the Premier League at the first attempt in 2011/12, culminating with victory over Blackpool in the Championship Play-Off final at Wembley on 19 May 2012.

The former Blackpool, Notts County, Bolton Wanderers, Newcastle United and Blackburn Rovers boss steered the Hammers to tenth position on their first season back in the Premier League in 2012/13.

The Dudley-born manager then overcame injury and suspension problems to guide West Ham to the safety of 13th place in the Premier League and the League Cup semi-finals in 2013/14. The renaissance was highlighted by four straight Premier League wins in February 2014, earning the Premier League Manager of the Month award.

Three straight Barclays Premier League victories in October 2014, including a 2-1 home win over champions Manchester City, saw Allardyce win the Premier League Manager of the Month award for a record-breaking second time as Hammers boss.

After four seasons, Allardyce and the Club parted company following the end of the 2014/15 campaign, which ended with the Hammers fading from a superb start - fourth at Christmas - to finish 12th in the Premier League.

Prior to joining West Ham, Big Sam enjoyed a 20-year playing career in the Football League as a centre-half. He represented nine different clubs in three different countries, winning promotion to the old Division One with Bolton Wanderers in 1978.

Allardyce began his managerial career as assistant to Brian Talbot at West Bromwich Albion in 1989, before winning the League of Ireland First Division title in 1992 at the end of his only season in charge at Limerick.

He spent a short spell in caretaker charge at Preston North End in autumn 1992 before embarking on a successful two-season spell with Blackpool, taking the Tangerines to their highest league finish since 1978, third in Division Three in 1995/96

Allardyce was appointed Notts County manager in January 1997 after a short stint on Peter Reid's coaching staff at Sunderland and led the Magpies to a record-breaking promotion from Division Three in 1997/98, winning the title by a 19-point margin.

After taking over as Bolton Wanderers manager in October 1999, Big Sam led the Trotters to the Division One Play-Offs and the semi-finals of both major cup competitions in his first season in charge, then promotion to the Premier League via the Play-Offs in 2000/01.

He then established the Lancashire side as a top-flight club, guiding the Trotters to four consecutive top-eight Premier League finishes between 2003/04 and 2006/07, as well as the 2004 League Cup final.

Big Sam spent six months as Newcastle United manager between May 2007 and January 2008 and had a two-year spell as Blackburn Rovers manager between December 2008 and December 2010.
Appointed 1 June 2011
Departed 25 May 2015
Games Managed 181
Games Won 68
Games Drawn 46
Games Lost 67
Win Percentage 37.57%