West Ham United 8 Leeds United 2
West Ham United 8           Leeds United 2
Watson 6
Gibbins
Yews
Football League Division One, Boleyn Ground, 9 February 1929
West Ham United: Hufton, Hodgson, Earl, Collins, Smailes, Cadwell, Yews, Earle, Watson, Gibbins, J.Ruffell
In West Ham United's long history, just two players have scored six goals in a single Football League or Premier League match – World Cup hero Geoff Hurst against Sunderland here in October 1968 is one, while the other is the Club's all-time leading marksman Vic Watson.
Watson, who netted an amazing 326 times for the Hammers, scored half-a-dozen in an incredible 8-2 demolition of Leeds United at the Boleyn Ground on 9 February 1929.
What perhaps makes Watson's achievement all the more outstanding is that the West Ham team of the time was a struggling outfit, while visitors Leeds were among those challenging for the First Division title that winter.
After leading them table themselves after four rounds of matches, West Ham had slipped slowly down the table, dipping as low as 18th following a 5-2 defeat at Aston Villa on 19 January 1929.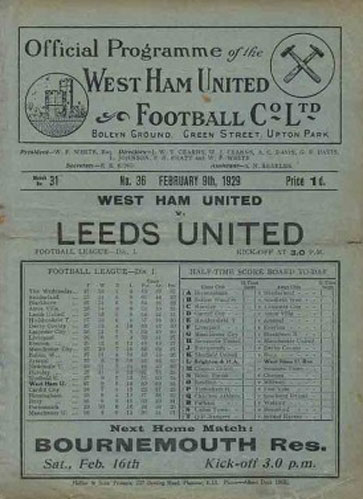 To their credit, Watson and company had regrouped somewhat in the two games that followed, knocking Corinthians out of the FA Cup 3-0 and scoring a 3-2 victory at bottom club Manchester United.
Leeds, on the other hand, had started 1929 with league wins over Leicester City and Manchester United and an FA Cup success against Exeter City, only for their own form to slip slightly in the shape of a 3-0 FA Cup fourth-round defeat at Huddesfield Town and a 2-2 league draw with Liverpool at Elland Road.
While some might have forecast the Hammers upsetting their Yorkshire rivals by the odd goal, the demolition that ensued was surely beyond the wildest dreams of anybody of a Claret and Blue persuasion.
Indeed, the first half was a competitive affair, with West Ham racing into a two-goal lead through strikes from Vivian Gibbins and Tommy Yews, only for Leeds to peg them back with two goals of their own before half-time.
The second 45 minutes was an entirely different proposition, however, as Watson took centre-stage with a quite breath-taking display of goalscoring ability.
According to a round-up of the weekend's matches in The Times newspaper the following Monday, Watson was 'really brilliant', but those two words do not quite pay tribute to just how lethal the centre forward was during those 45 minutes.
Indeed, a match report that appeared in The Observer the previous day perhaps better summed up Watson's form against the shell-shocked Leeds.
"This was a triumph for West Ham's [England] international centre, who is strong in the legs, broad in the shoulders, quick in his shooting, and alert in wit – especially in seeing the next move," the report purred.
"The heavy turf, for the surface was just sludge, suited him. He lay well ahead, got some long passes to him, swished the ball to the wing (generally to Yews), and then closed on the goal. His sure foot did the rest.
"Watson has just the build to play well on such a ground. Much as he was indebted to Yews, he played exceedingly well. A man might get six goals and still only be an indifferent performer, but Watson was the moving spirit all the time. Never before has he scored six goals in an important match."
If Watson's one-man show had been something of a surprise, the way in which the Leeds defence repeatedly parted to allow him to score was likewise.
While goals were generally easier to come by in those days than they are in the modern age of football – West Ham scored 86 and conceded 96 that 1928/29 season – it was still a shock to see a top-flight team let in eight in a single match.
Yes, Leeds had conceded six to Huddersfield the previous September and five to Birmingham City just before Christmas, but they were far from the leakiest defence in the First Division that season.
Second-from-bottom Bury conceded 99 times, while Burnley let in 103 goals in finishing just two places above the relegation zone.
Leeds let in 84 goals that season, but when you consider that champions Sheffield Wednesday conceded 62, you realise that they were not the easiest meat for Watson to devour, but devour them he did.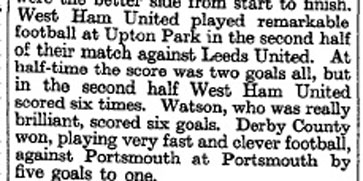 "It was obvious that Leeds United were not suited by the conditions," The Times report went, almost making an excuse for the visitors' inability to stop their hosts.
"They had a really useful half-back line, but even in Hart, England's latest centre half-back, had no strategy to cope with Watson, whose position play and even pace in the mud were too much for him."
The vast majority of the 18,055 fans who turned out to watch Watson and his team-mates put Leeds to the sword may have been taken aback by the final scoreline, but the forward's scoring escapades at the Boleyn Ground were nothing new.
The Cambridgeshire-born player had scored regularly since joining the Hammers from Wellingborough Town in 1920 for a scarcely believable fee of just £50.
After helping fire West Ham to the FA Cup final and promotion to the top flight for the first time in 1923, Watson set about First Division defences with gay abandon.
Between 1924/25 and 1931/32, Watson smashed in exactly 200 goals in just 284 league matches – a strike-rate that only a handful of forwards have been able to match, in any era.
It was on a cold winter's day in February 1929 that he enjoyed his finest afternoon in a West Ham shirt, an afternoon on which he scored six goals in a single half against a title-chasing Leeds United – a feat that will surely never be repeated at this famous old stadium.
Despite Watson's 29 goals in 34 appearances, West Ham did not build on their eye-catching success, losing at home to Arsenal in their next league match and ending the season in 17th place – albeit only two points outside the top half.
Leeds too struggled following their Boleyn Ground mauling, winning just three of their remaining 15 league matches to finish two points above the Hammers in 13th.