West Ham United 2 Wolverhampton Wanderers 0
West Ham United 2        Wolverhampton Wanderers 0
Dick, Smith
Football League Division One, Monday 25 August 1958 Boleyn Ground
West Ham United: Gregory, Bond, Cantwell, Malcolm, Brown, Lansdowne, Grice, Smith, Keeble, Dick, Musgrove
Wolverhampton Wanderers: Finlayson, Stuart, Harris, Slater, Wright, Flowers, Deeley, Broadbent, Henderson, Mason, Horne
 
Two weeks before a teenager named Bobby Moore made his West Ham United debut, the Boleyn Ground played host to his biggest rival for a the title of England's greatest centre-half.

The great Billy Wright spent the entirety of his playing career with Wolverhampton Wanderers, making his first-team debut at 15 in 1939 and totalling 541 senior appearances – a number that would have been far greater were it not for the Second World War.

After making his England debut at 22 in September 1946, Wright's inspirational qualities were recognised as he captained his country in 90 of his 105 international appearances.

Wright also led Wolves to the FA Cup in 1949 and the First Division title in 1954, 1958 and 1959.

Between those second and third championship triumphs, the then-34 year old brought his Wolves team to the Boleyn Ground to tackle the newly-promoted Hammers on 25 August 1958.

West Ham had been promoted on the final day of the previous season courtesy of a 3-1 win at Middlesbrough, but it was their outstanding home form that carried Ted Fenton's side to the Division Two title – just one defeat in 21 matches.

And so it was that the reigning League champions arrived to take on the reigning Division Two champions on the opening Bank Holiday Monday of the 1958/59 season.

What ensued was one of the most memorable matches this famous stadium has ever seen.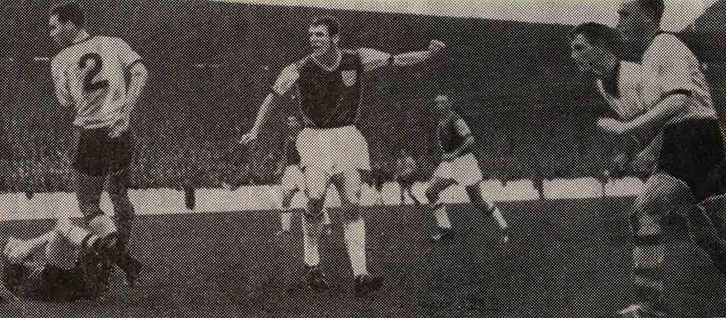 West Ham United shocked the champions with a goal in each half
The Wolves side that arrived in east London amounted to much more than just their famous centre-half and captain, however.

Four members of Stan Cullis's title-winning squad had travelled to the 1958 FIFA World Cup finals in Sweden – Wright, Eddie Clamp, Bill Slater and Peter Broadbent.

While Clamp missed the Boleyn Ground game, the tenacious Slater and future Footballer of the Year and exciting midfielder Broadbent were there. Also present was another England international in midfielder Ron Flowers, who was part of England's 1966 FIFA World Cup-winning squad alongside Moore, Geoff Hurst and Martin Peters.

It was rookie South African winger Des Horne who had Wolves' opening chance, but he put it wide of Ernie Gregory's goal when well-placed.

West Ham were not intimidated by their illustrious opponents, however, and they quickly settled into the game, regularly working goalkeeper Malcolm Finlayson – who passed away last month at the age of 84.

Right-half John Smith, 19, came closest to opening the Hammers' top-flight account, but he was twice denied by the Scottish stopper, while Vic Keeble could only head a Mike Grice cross wide of the post.

A minute before half-time, the deadlock was broken when Malcolm Musgrove and Keeble combined to set up John Dick, who gave Finlayson no chance.

Into the second half and West Ham continued to play with a verve and style that the champions could not handle.

With 17 minutes to go, the shock result was confirmed when centre-half Malcolm played Smith through and the young Academy product made no mistake from 25 yards.

The success was no fluke – West Ham also hit the woodwork three times and were full-value for their victory.
Those of us who got in will probably never forget it and those who could not gain admittance or were unable to attend had the gap bridged by lengthy press reports that conveyed the highlights in the fullest possible way
Matchday programme editorial
One newspaper report could simply not contain its excitement following West Ham's first home top-flight fixture in more than 26 years.

"Rightly labelled the Match of Champions, this game had everything – craft, speed and goals. It was Fenton's greyhounds against Cullis's Wolves, and how the homesters chased and beat the Wolves.

"In the first half, the Hammers attack had Billy Wright and company groping, twisting and turning. Musgrove and Grice, on the wings, always menaced the Midlanders' star-studded defence, and in goal Gregory was never in trouble with a worthwhile shot."

The matchday programme for the following Saturday's home game against Aston Villa – a 7-2 thumping of another West Midlands side – was also effusive in its praise for the boys in Claret and Blue.

"Those of us who got in will probably never forget it and those who could not gain admittance or were unable to attend had the gap bridged by lengthy press reports that conveyed the highlights in the fullest possible way."

The same programme also made mention of the praise given to the Hammers by a Wolves director, who commented: "You have a fine team: they deserved to win and we have no complaints."

Perhaps the biggest compliment was paid to the Division One new boys by the great Wright, who visited the home dressing room following the game.

"Thanks for the game lads," Wright is reported to have said, "and thanks for the runaround – at least it proved that we are fit!"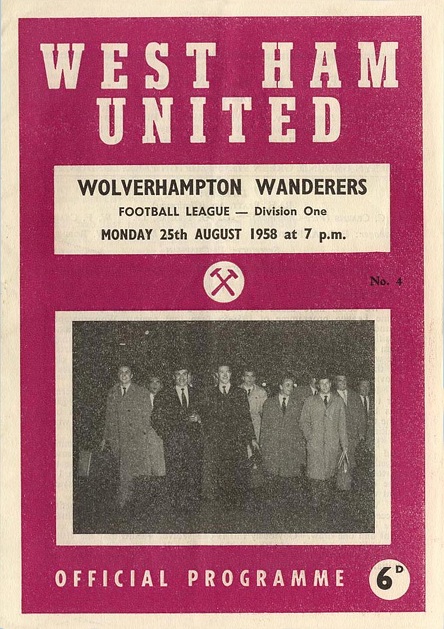 Both clubs would go on to enjoy fantastic 1958/59 seasons.

West Ham built on their early-season successes to finish sixth in the table – the highest position ever achieved by the Club and beaten only twice in the 55 years since.

As had been the case the previous year, the Hammers' record was based on their outstanding home form, as Fenton led his team to 15 wins in 21 league matches at the Boleyn Ground.

Wolves compiled an identical home record of 15 wins, three draws and three defeats, but they added 13 away victories to that tally.

With 28 wins in 42 matches, Cullis's all-stars romped to a second consecutive Division One title, finishing six points ahead of Manchester United – these, of course, being the days of two points for a win.

While Wolves were undoubtedly the finest team in the land, on one late summer evening in east London, they were second-best to West Ham United.