The bankruptcy of the Old Castle Swifts FC – the first professional football team in Essex, which had been formed in 1892 by employees of the Castle Shipping Line – opened up an opportunity for a new football club to be formed in what was then the County Borough of West Ham.
Businessman Arnold Hills, the managing director of the Thames Ironworks and Shipbuilding Company, was asked by one of his foremen, local football referee Dave Taylor, if he could start up a works football team.
Mr Hills was a keen and very able sportsman himself and was well known for his enthusiasm for exercise, healthy living, tee-totalling, temperance and encouraging his workforce to become involved in communal activities.
As a younger man, he was the English mile and three-mile champion, played cricket and football – the latter to the highest level.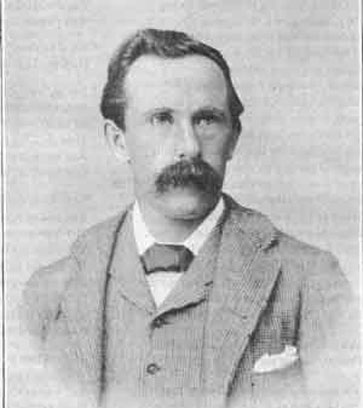 Hills started the 1877 FA Cup final for Oxford University in their 2-1 defeat by Wanderers and even represented England against Scotland as an amateur in April 1879.
Prior to the foundation of Thames Ironworks FC, Hills had already overseen the introduction of a host of sports clubs, including cricket, running, rowing, cycling and a junior football team, a brass band, operatic society and a debating society, among others.
In June 1895, the formation of the senior works football club was announced in the company's 'Thames Iron Works Gazette' newspaper and Taylor set about assembling a squad and arranging friendly matches for the 1895/96 season.
A number of former players and staff from Old Castle Swifts and Old St Lukes – another local club which had amalgamated with Castle Swifts in 1894 – joined the new Thames Ironworks FC, including Old St Lukes honorary secretary Mr A. C. Davis, who later served as a Director.
The new club moved into Old Castle Swifts' recently-vacated ground at Hermit Road, Canning Town, less than a mile north of the Thames Ironworks shipbuilding yards at the mouth of Bow Creek.
Thames Ironworks FC also adopted Old Castle Swifts' colours, with the new club's first kit being all traditional Oxford Blue. Reflecting another of Hills' great passions, patriotism, a Union Jack was added to the strip in 1896/97, while the team would wear a new red, white and blue kit between November 1897 and 1900.
Having founded the new club and assembled a squad of around 50 would-be amateur players, Taylor went back to his former role as a referee, leaving the management to Thames Ironworks company secretary Francis Payne, who became Chairman and Chief Director.
On the pitch, the players were coached by Thames Ironworks employee Ted Harsent, with another former Old Castle Swift, Tom Robinson, appointed as trainer and physio.
Robinson ran twice-weekly evening training sessions on Tuesdays and Thursdays in a gas-lit schoolroom at Trinity Church School in Barking Road, Canning Town, where the players were put through Army-style physical training exercises. They also went for runs around the local streets.
Wearing their Oxford Blue, Thames Ironworks FC stepped out at Hermit Road for their first-ever fixture on 7 September 1895 – almost exactly 125 years ago – with the friendly meeting with Southern League side Royal Ordnance Factories FC, Woolwich Arsenal's reserve team, ending in a creditable 1-1 draw.
For the record, the Hammers' first-ever goalscorer was Canning Town-born Arthur Darby, whose name was also on the teamsheet when the Club's first competitive fixture took place on 12 October 1895.
Thames Ironworks travelled to another club with maritime traditions, Chatham Town, in the FA Cup first qualifying round. A 3,000-strong crowd turned out to see the Kent League outfit triumph 5-0.
Thames Ironworks' team that afternoon was captained by Scot Robert Stevenson – formerly of Old Castle Swifts – while the defence included clerk Walter Parks, the midfield engine room comprised boilermakers Johnny Stewart, George Sage and James Lindsay and the forward line was led by ship's fireman Thomas Freeman.
The new Club, then nicknamed 'The Tee-totallers' due to Hills' urging his players to abstain from drinking alcohol, had more reason to celebrate in the West Ham Charity Cup, which they won at the first attempt by defeating Barking Woodville in a second replay on 20 April 1896.
Over the course of the 1895/96 season, Thames Ironworks' sides would contest 46 matches in total, winning 30. A number of those matches were played in the evening, allowing employees and their families to attend. In those relatively early days of electricity, Thames Ironworks pioneered floodlit football, with the first such match taking place on 16 December 1895. It was some feat for the Club to surround the Hermit Road pitch with some 2,000 light bulbs suspended between poles.
The exercise was repeated a number of times over the course of the club's inaugural season, with two-time FA Cup winners West Bromwich Albion scoring a 4-2 victory at Hermit Road on 20 March 1896.
Thames Ironworks FC's historic first season had been a success.
---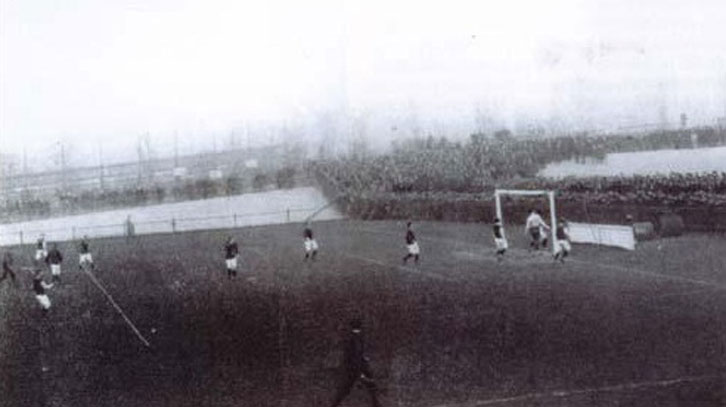 After winning the West Ham Charity Cup in their first season, Thames Ironworks FC entered the London League for the 1896/97 campaign.
Playing in 'Royal Cambridge Blue' shirts, white shorts, red caps, belts and socks, the patriotic-looking Irons fielded three teams each weekend, with a number of those who had played their part in the Club's successful first season returning for a second year.
Arnold Hills, the managing director of the Thames Iron Works and Shipbuilding Company, former FA Cup finalist and England international and the man who was the driving force behind the football club, continued to take a close interest in its fortunes, and urged its members to act professionally.
At the beginning of the season, he sent a message to the players, which read: "As an old footballer myself, I would say, get into good condition at the beginning of the season, keep on the ball, play an unselfish game, pay heed to your captain, and whatever the fortunes of the first half of the game, never despair of winning, and never give up doing your very best to the last minute of the match. That is the way to play football, and better still, that is the way to make yourselves men."
Despite losing star player Billy Barnes to Sheffield United, where he would win the FA Cup in 1902, the likes of Robert Stevenson, Charlie Dove, Walter Tranter, George Gresham, William Chapman and George Sage were joined by a host of new signings.
Under the direction of trainer Tom Robinson, the squad would train regularly, building up stamina, strength and speed with a variety of drills.
With just seven teams participating, the London League season comprised only 12 matches, the first of which saw Thames Ironworks defeat Vampires of Crouch End 3-0 on 18 September 1896, with new boy Edward Hatton scoring two of the goals.
The game was the last to be played at the Club's original Hermit Road home, as the Ironworks would be evicted the following month for violating their terms of tenancy by erecting a perimeter fence and charging admission to matches.
After playing their next four London League matches on the road, the Ironworks set up at their new home, Browning Road in East Ham, and celebrated with a 3-2 win over Ilford on 6 March 1897. A 1,500-strong crowd were present to see Charles Read and H Butterworth share the hosts' goals.
Unfortunately, the supporters continued to stay away, with future player and manager Syd King labelling Browning Road a 'wilderness both in the manner of luck and support' in his 1906 Book of Football.
The Irons also entered the FA Cup for a second time, and were again rewarded with an away tie in Kent, this time at Sheppey United. As Chatham had the previous season, the Southern League First Division side proved too strong, running out comfortable 8-0 winners.
Just a month after playing their first game at Browning Road, Ironworks played their last, a 1-1 London League draw with Barking Woodville. The result meant the Irons (pictured, below, in 1897) would finish the season in second place behind the champions, 3rd Grenadier Guards FC.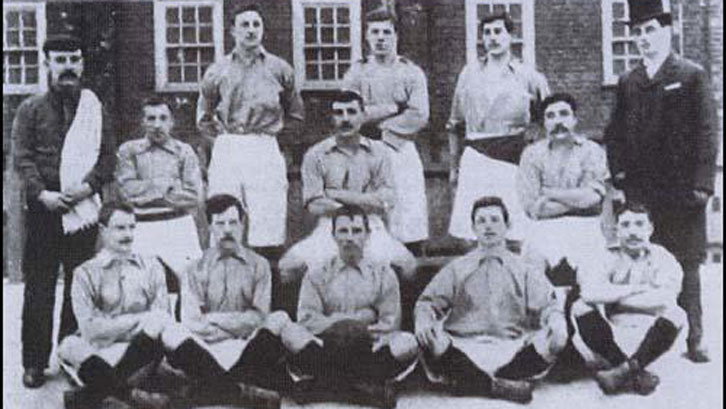 With Browning Road proving unsuitable, Arnold Hills earmarked a large section of land in Canning Town to be built on, with £20,000 being spent on developing a large multi-sports venue which would ultimately be named The Memorial Grounds.
The new stadium was officially opened on 22 June 1897, Queen Victoria's Diamond Jubilee, and contained a football pitch, cinder running track, cycle track, tennis courts and a huge outdoor swimming pool.
It was estimated to have a capacity for 100,000 spectators. However, just 1,000 were present when Thames Ironworks kicked-off life at their third home ground, beating Brentford 1-0 in the London League on 11 September 1897, with new signing Jimmy Reid getting the goal.
November 1897 saw the team wearing bright new colours, with a sky blue shirt, white shorts and scarlet stockings.
The following year, 1898, the London, Tilbury and Southend Railway agreed to build a station to serve The Memorial Grounds – the station now named West Ham.
On the pitch, Ironworks thrived at their new home, despite losing a number of the best players, including captain Robert Stevenson. The team won 12 of 16 London League matches and be crowned champions, a point above Brentford, with Hatton and Reid scoring 22 of the team's 47 goals between them.