Our workforce are our most important feature. They're the first point of contact for someone looking for help – and they're the people that continue to offer support for as long as it's needed.
Our team is made up of 60 full-time staff, 74 sessional coaches and more than 100 volunteers, apprentices and trainees. All are well trained and highly skilled at supporting people – whether that's on the pitch, in school or in the community. 
Many of our staff have previously been part of one of our programmes. We see the opportunity for beneficiaries to volunteer, to join more structured development programmes, or to join us as an employee, as an incredibly important part of creating better futures and improving lives.
This lived-experience is why we involve our people and our beneficiaries in the development of our organisation and the programmes we deliver. Their input through co-design and co-production of programmes means that our support is offered where it is needed and in a way that breaks down barriers.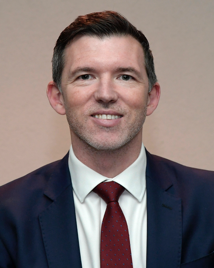 Joseph Lyons
Chief Executive Officer
Joseph has over 15 years' experience working across the community sports sector, providing successful leadership and applying core values of community engagement to pioneer and create influential partnerships and projects. Since joining the West Ham United Foundation in June 2013, he has delivered an innovative approach to inspire better futures for all, particularly focusing on Health, Education and Inclusion, and breaking down social barriers for young people to achieve. Joseph's work across east London has been an example of his multi-layered approach to building meaningful collaborations in order to tackle local need and utilise the power of elite sport for social good. With a strong understanding of the effect football has on attitudes towards learning and community engagement, Joseph has developed a number of award-winning sport-based projects in order to create environments for communities that ultimately aims to drive equality and create life-changing opportunities.
---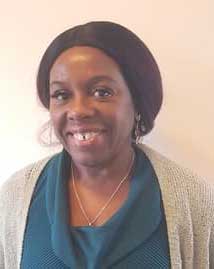 Janet Wallace
Finance Director
After training in Practice and spending ten years as a chartered certified accountant, Janet has gathered a further 18 years of varied experience in accountancy and tax matters within the Corporate, Banking, and Charity and Not for Profit Sectors. Janet joined the Foundation during 2015, bringing with her a wealth of knowledge. The evolving dynamics of the Foundation meant that both her technical and practical skill in Financial & Taxation and strategic experience remains relevant.
---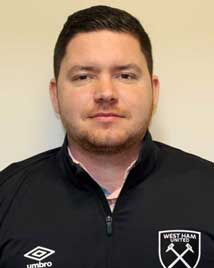 Bryan Glover
Head of Football Development
Bryan has worked with the Foundation for over 10 years and leads football programme delivery across east London, Essex and internationally. Bryan's work includes all post-16 Learning Academy projects, extended football provision, Elite Player Pathways and International development as well as overseeing the Academy pathway for both players and staff. Bryan has also worked in the Academy as a Lead Team Manager across multiple age groups, and is a former West Ham United Academy player. Bryan also manages a wide range of partnership development, including relationship management and cultivation of working relationships with public and private sector partners within the Foundation.
---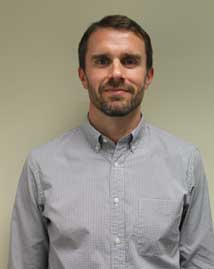 Jesse Foyle
Head of Learning
As part of the senior team, Jesse leads the Learning department including areas of work across Education, Employability, Higher Education, and NCS. With over fifteen years working in education and community settings, Jesse brings significant experience and skills in developing strategy and implementing programmes for positive change. He has a passion for lifelong learning and the capacity of sport to inspire people and bring communities together.
---
David White
Head of Operations
David oversees the Foundation's daily operations, ensuring it is well coordinated and productive by managing procedures and supporting staff. He has over 15 years' experience of working in the sport industry which includes elite coaching, fundraising and event management. David recently joined West Ham United Foundation from local government where he was the lead officer for sport and leisure at Croydon Council overseeing the borough's leisure management contract and a programme of sport development initiatives.
---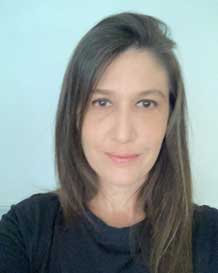 Claire Priddle
Safeguarding Manager
Claire is the Safeguarding Manager at the Foundation, with over 10 years Safeguarding experience, in both Professional and Grassroots Football. Claire is a Safeguarding tutor for the FA, and also develops and delivers Safeguarding workshops for staff and participants on a wide range of subjects. She develops Safeguarding strategies to embed a culture of proactive Safeguarding, ensuring that all staff and volunteers are suitable to work with young people and adults at risk, and know what to do if they have concerns. Claire has a vast knowledge of where stakeholders and partners are best placed to support Foundation participants and is constantly raising the profile of the West Ham United Safeguarding team by visiting the Foundation venues and external partners. Claire is part of the match day Safeguarding Team at London Stadium and supports Men's and Women's Academy Safeguarding. 
---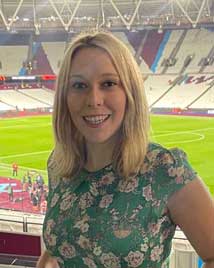 Alicia Goulding
Head of Marketing & Communications
Alicia has over ten years' experience within marketing and communications in the sports industry, primarily working across tennis and football. Her role at the Foundation is wide ranging, with responsibility for overseeing and implementing the charity's marketing, communications and fundraising plans in accordance with its ambitious vision. Since joining the charity in 2018, Alicia has delivered creative and impactful strategies which have contributed to the rapid development of the organisation, delivered wider industry recognition and increased stakeholder engagement.