Partners
Who will score West Ham's 1000th Premier League goal?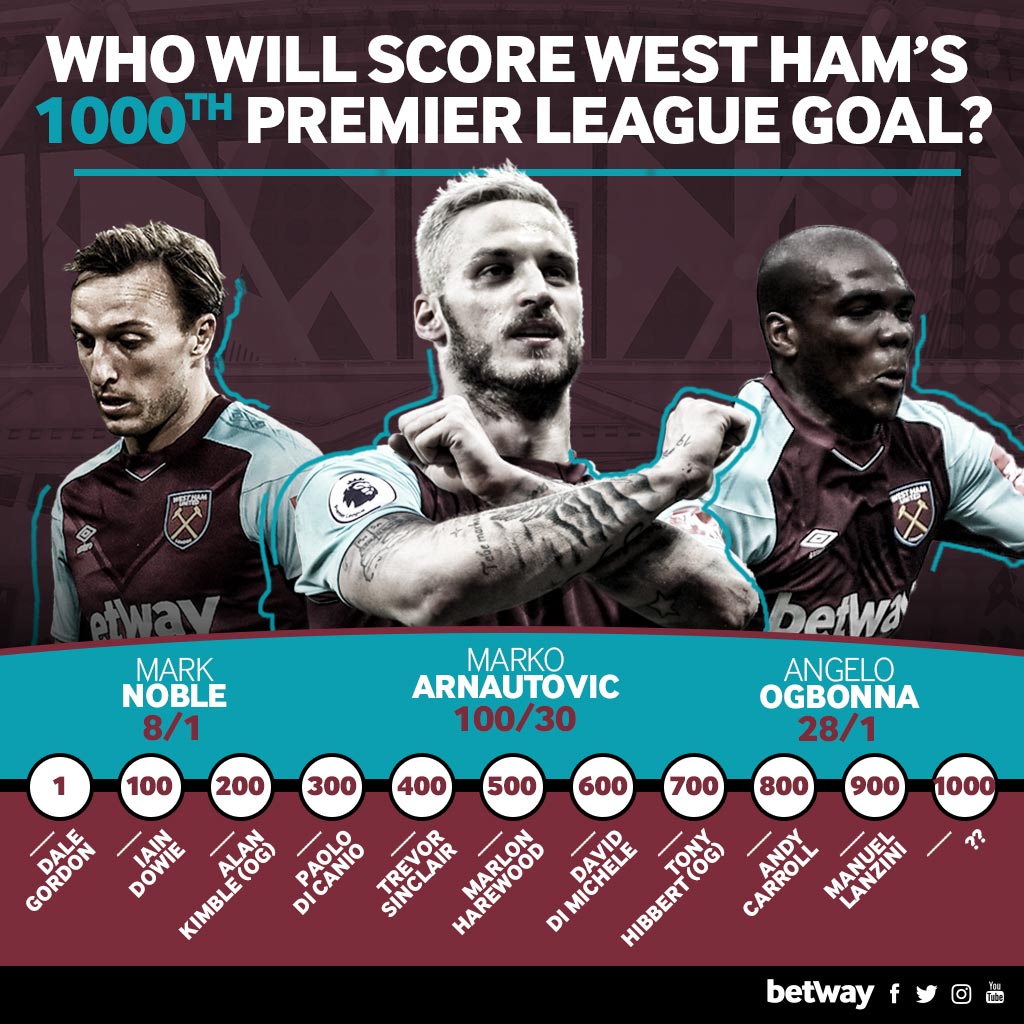 With the Hammers currently poised on 999, Betway look back through history to see who might get the honour of bringing up the four figures.
West Ham are one goal away from becoming just the 10th club to score 1,000 during the Premier League era.
Away to Swansea on Saturday, who lost 4-1 to Brighton in their last league outing, there's a good chance the Hammers will reach four figures this weekend.
But who might be the man to bring up the milestone?
Check out all the odds on who will score our 1000th Premier League goal here 
The favourites
Unsurprisingly, Javier Hernandez (5/1), with three in his last six, and Marko Arnautovic (7/2), who has scored seven in 10 league games, are the two favourites.
Historically, it has tended to be more recognised goalscorers who have had the honour of netting their club's 1000th goal.
Cristiano Ronaldo was the first player to do so for Manchester United, followed by Emmanuel Adebayor (Arsenal), Fernando Torres (Liverpool), Jermain Defoe (Tottenham), Demba Ba (Newcastle) and Christian Benteke (Aston Villa) for their respective clubs.
However, given that Alex (Chelsea), Steven Pienaar (Everton) and Fernando (Manchester City) also make the list, there's no harm in looking at a few alternatives.
The value bets
Manuel Lanzini (5/1) hit West Ham's 900th Premier League goal against Crystal Palace in April 2016.
Now back in the team following a recent hamstring injury, he's a nice price to repeat the trick.
English players have also had a habit of scoring landmark goals, with Trevor Sinclair hitting number 400 in 2002, Marlon Harewood number 500 in 2006 and Andy Carroll number 800 in 2014.
That makes Michail Antonio (5/1) and Mark Noble (8/1) names also worth considering.
The longshots
The same can be said for Italians, after Paolo Di Canio brought up number 300 in January 2000 and David Di Michele notched number 600 with a brace against Newcastle in September 2008, two of just four goals he scored for the Hammers.
It's tempting, then, to back Angelo Ogbonna (28/1) to add to his tally of three for the season.
Remarkably, two of West Ham's milestone goals were actually scored by opposition players.
Wimbledon's Alan Kimble brought up number 200 in December 1997 after putting the ball in his own net, while Everton's Tony Hibbert did the same for number 700 back in November 2009.
So opting for an own goal (14/1) to bring up 1,000 wouldn't be the craziest thing to do.